Ero Manga Sensei: Imouto to Akazu no Ma (エロマンガ先生 妹と開かずの間) là một bộ light novel series của tác giả Tsukasa Fushimi, Hiro Kanzaki vẽ tranh minh họa
Series này hiện đang có năm volume.
Tóm tắt cốt truyện
Edit
Câu 'chuyện tình anh em' lần này xoay quanh Masamune Izumi, một học sinh cấp ba đồng thời là tác giả light novel. Em gái cậu, Sagiri là một cô bé sống biệt lập cả năm trời không ra khỏi nhà. Cậu buộc phải mang cơm nước đến phòng em mình mỗi ngày, cho dù trong lòng rất muốn cô bé ra khỏi phòng vì cả hai chỉ còn mỗi mình nhau.
Họa sĩ vẽ tranh minh họa cho light novel của Masamune có bút danh "Eromanga Sensei", chuyên vẽ những bức cực nóng cực hot, đồng thời cũng rất đáng tin cậy. Masamune chưa từng gặp họa sĩ của mình nhưng đoán đó là một ông otaku dâm đãng biến thái. Nhưng sự thật, Eromanga-sensei chính là em gái cậu. Đã loạn lại càng thêm loạn, một tác giả nổi tiếng khác cũng nhảy vào làm đối thủ!
Lịch sử cập nhật
Edit
2/2014: Project chính thức được cập nhật lên wiki.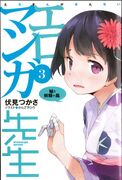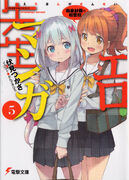 Ad blocker interference detected!
Wikia is a free-to-use site that makes money from advertising. We have a modified experience for viewers using ad blockers

Wikia is not accessible if you've made further modifications. Remove the custom ad blocker rule(s) and the page will load as expected.